Du gør ikke kun en forskel, for dig selv, når du vælger mig
Når du vælger at indgå i et forløb hos mig, hjælper du ikke kun dig selv. 5% af din betaling går nemlig direkte til hunde i nød i Thailand. Du kan læse meget mere om til hvem og hvad du støtter og hvor stor en forskel du kan være med til at skabe. 
"My name is Michael Baines and I am the president and co-Founder of The Man That Rescues Dogs.
Been living and working in Thailand since 2002, chef by profession and now a dog rescuer full time.
What started with one dog in 2011 have now grown to where we are today.
At the moment, we have 950 dogs in our care.
600 dogs lives in our shelter and 350 are fed and monitored on the streets.
in 2017 when we took over the local dog pound of 150 sqm, and 100 dogs where fighting to survive until today with an area of 4500 sqm, including bridges, concrete counters, roofing, trees and 3 pools. We are currently expanding the area another 5000 sqm to be bare to rescue more dogs. Our place will be around 10 000 sqm
31 of our dogs are paralyzed and all have their own wheelchair, they live with around 35 other special need dogs in our care unit. Staff take care of these dogs around the clock
We have 36 staff of which 3 are veterinarians and 2 vet assistants who manage our free of charge clinic, where we treat animals on a daily basis.

And perform daily spay and neutering. A clinic we are currently expanding to fully equipped animal hospital. At the moment we can treat around 15-20 animals a day, depending on the severity.

In the future when the hospital is ready, we can treat even more, it will still be free of charge.
We have 6 construction staff who are improving and expanding (6 because we are building our small clinic into an animal hospital (still free of charge, of course)
3 admins who answer messages, finding homes for the dog we have, coordinates rescues and do bookkeeping and HR work.
26 care takers who clean, prepare food, feed, walk, and socialize with the dogs, taking care of our quarantine are where newly arrived dogs needs to be until they are fully vaccinate, spayed and neutered.
A total of 44 staff last salary period
This is all funded by donations from around the world. We spend around 1 250 USD per day, 38 000 USD per month"
Her er hvad det koster at både hjælpe en enkelt hund, samt drive hele organisationen.
Vaccination 120 baht (23 kr.), per year per dog
Spay and neuter 500 baht (95 kr.), one time
Tick and flea treatment 200 baht  (38 kr.) per month per dog
To care for one dog, cost per day 42 baht (8 kr.). Incl staff, food, transport, basic meds if needed
One day cost to run the organization 1250 USD
Cost for feeding all the 350 stray dogs on the streets pr. day 160 USD (1.000 kr.)
Cost to feed all dogs in the shelter for one day 450 USD (3.000 kr.) , feeding twice a day)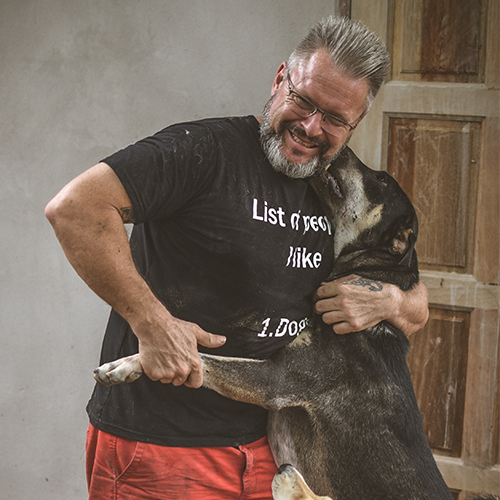 Her kan du både se videoer og læse mere om Michaels arbejde: